It's been four years since James Taylor burst onto the SW3 scene when joined the cast of Made in Chelsea and since then he's been involved in some major storylines. The London lothario's romanced a number of ladies during his time on the show including Eliza Batten and Verity Bowditch, but his womanising ways came to an end when he started dating Maeva D'Ascanio in 2019.
Things for James and Maeva were far from clear sailing... Their turbulent relationship has provided much of the drama in the last series of MIC.
As we patiently wait for the next series of the hit show - here's everything you need to know about him.
Who is James Taylor?
James is a reality star and model who is best known for appearing on Made in Chelsea. His first appearance on the show was in 2017 when he taught his pal Sam Prince how to play polo.
During his time on MIC James has developed a bit of a reputation after two-timing Verity Bowditch and Eliza Batten.
He flew Verity to Paris for a date before doing the exact same for Eliza and telling her she's "the only girl [he] would do that for".
However, it wasn't long before Eliza realised he was still messaging Verity.
How old is James Taylor?
James was born on 9 April 1995, meaning he's currently 26 years old.
Where is James Taylor from?
James grew up with his mum, dad and three siblings in Saffron Walden, a small town in Essex.
CHECK OUT Made in Chelsea's most dramatic splits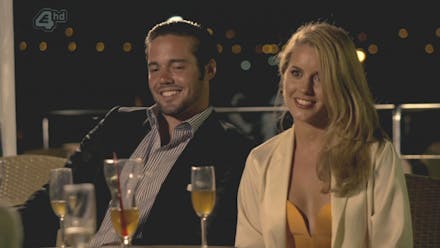 1 of 11
CREDIT: E4
Spencer Matthews and Caggie Dunlop
The OG tragic split, even featuring an IRL (well, scripted reality) leaving at the airport scene. Spencer and Caggie weren't officially a couple, with Spencer dating model Funda Önal, but the chemistry between them was undeniable and for a long time Spenny thought of her as the love of his life. Eventually, feeling played by Spencer stringing her along while refusing to dump Funda (we don't blame her, tbh) Caggie left to pursue a "music career" in New York, and Spencer, realising the error of his ways, rushed to catch her at the airport to win her back. He missed her. Talk about dramatic.
Look! More news!
Made in Chelsea fans make a shocking discovery about Ruby Adler and we have questions
Made in Chelsea's Reza Amiri-Garroussi: who is the reality star?
Made in Chelsea: who is Inga Valentiner and is she dating Liv Bentley?
What does James Taylor from Made in Chelsea do?
Before joining Made in Chelsea, James studied Global Business Management at Regent's University London from 2014-2018. He was awarded one of the university's two polo scholarships and has played at a range of clubs including Cambridge, Exeter and Dallas.
James' lavish lifestyle, including his own private plane and a spa inside his house, often gets a mention on the show. Not much is known about James' family or how they became so rich, although they have their own business which is linked to sales engineering. It's even thought that James could take over the business one day.
The reality star also works as a model and usually shares snaps from his photoshoots on Instagram.
WATCH Habbs, Maeva & James are faced with their most cringeworthy Made in Chelsea moments
Is James Taylor still dating Maeva?
James and Maeva are still dating, despite taking a "break" in the most recent series of Made In Chelsea after a series of rows. James kissed another woman just days later, leaving a furious Maeva ready to take revenge.
She claimed she wanted to "hurt" James and told Olivia Bentley, "And the only way to hurt James is to have sex with Miles [Nazaire]."
Miles is Maeva's ex who has previously caused problems for her relationship with James due to their close friendship.
Fans took to social media to fume at the turn of events, with one writing, "So Miles ruined one relationship, now he's going to ruin another one. Got it!"
Another added, "Ok they have chemistry but they are not compatible. Sometimes love and chemistry are not enough."
The break proved to only be temporary as Maeva and James got back together after she came clean about asking to sleep with Miles and apologised.
Maeva insisted nothing happened between her and Miles and claimed she wouldn't have slept with him even if he wanted to.
Whilst there was some more drama after Maeva admitted she'd seen Miles again causing her on/off boyfriend to exclaim, "You emotionally f--ked Miles!" (what an ICONIC line), they were still together at the end of series 22 and seem to be more in love than ever in the time since.
James posted an adorable photo of him and Maeva together in Paris on New Year's Day. He included the caption, "starting the new year as we mean to go on ❤️🐿" (awwwww). can you get any more classically romantic?
James also posted a picture of him and Maeva on Instagram for Valentines Day 2022 with the caption, "my valentine @maevadascanio ❤️".
We have to say the pair looked on amazing form, leading some to comment asking when they're going to get married. one wrote, "When are you getting married @maevadascanio? You'd make a gorgeous bride sweetheart 😍"
Maeva also shared a picture of her and James for Valentine's Day. She. captioned the post, "♥️Happy valentines day love of my life ♥️ @jamestaylorldn."
From these posts and by all other accounts James and Maeva's relationship appears to be stronger than ever. We wish them all the best in future 🙌.
Does James Taylor have Instagram?
Yep, you can follow him at @jamestaylorldn.