Tasha Ghouri is the truest form of a Love Island influencer. If she said jump, we'd say, "How high?"; if she said shave off your hair and get her name tattooed on our foreheads, we'd book the afternoon off work and do so.
Now, the former Islander is hinting at saying goodbye to her trademark extensions (at least for a while), and as such, we're standing with a lit match hovering over a pile of old hair (that we now realise didn't match anyway). Not really (calm down), but we feel like the image of fire helps paint a picture of our loyalty to this Love Island queen 🔥.
The 2022 finalist recently took to her YouTube channel – which we use in the same manner most people use the Calm app – to post an "intimate" fan Q&A video. While most of the questions were about her bossing the influencer game, Love Island and boyfriend Andrew Le Page, Tasha did pause to tell fans that she had taken made the decision to remove her tapes.
Tasha revealed, "I've taken my tapes out, so I'm going to have a break from my tapes for a while, because my hair is literally falling out and I feel so bald. Honestly, look at my little pony."
Consider us influenced 💇‍♀️🔥.
Last month, Tasha revealed that she had transformed her iconic blonde, beachy locks into something new, exciting and oh so 90s ahead of the National Television Awards (Thursday 13 October). And frankly, we're still surprised she didn't pick up an award for this look. She'll just have to settle for our love, adoration, and souls.
The Love Island 2022 star transformed her signature long blonde 'do into a stylish, platinum blonde bob with a fierce centre parting and it gave us SO many iconic vibes: 1997 Sarah Michelle Gellar, Demi Sims, and Dorit Kemsley from The Real Housewives of Beverly Hills.
In September, Tasha stunned fans by rocking a brand new fringe on Instagram. The Instagram photo's caption read, "Switch up 💇‍♀️", to which her boyfriend Andrew commented, "Sexiest girl on the planet 🔥🔥🔥."
Other season eight alumni were quick to notice her new look. Indiyah Polack said, "Tasha I'm DECEASED 😍😍😍😍😍" and Paige Thorne wrote, "No one drops it better 😍😍😍"
Earlier this year, we discovered that despite Tasha looking like a natural blonde, her natural hair colour is actually a mousey brown and was naturally SOOO long.
In a Q&A on her stories, someone asked 'Is blonde your natural hair colour?', to which Tasha's account responded with an old snap of her showing off her long dark locks, where she wrote: "It's not! Mousey brown it is. This also used to be my natural length."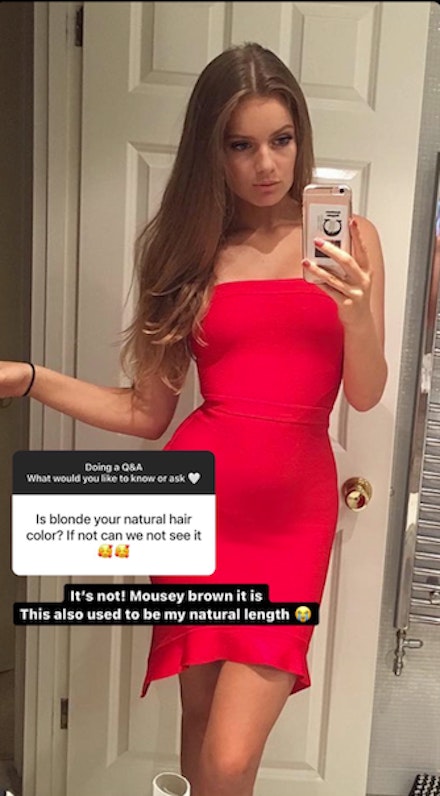 We are obsessed.
Tasha is also unrecognisable in an Instagram post from October last year, where she's sporting a black wig from Lullabelz (£69).
Some fans praised the vampy look and wrote 'Wow she looks so much like Maura here. Black hair really suits her!, whilst others commented 'Pulp Fiction vibes'.
WATCH: 'You Never Admitted That!' Dami, Indiyah, Paige, Adam & Andrew Address Love Island Rumours