Since joining Made in Chelsea in 2021, Inga Valentiner has caused quite the splash in SW3.
She was introduced as a friend of Tiffany Watson's and had history with both Miles Nazaire and Julius Cowdrey. In her first series, Inga had a good friendship with Liv Bentley, but that spectacularly crumbled before our eyes in the current series as they came to blows over Liv's friendship with Verity Bowditch.
The former friends are now "done" with each other and Liv has even caused a stir in Inga's relationship with Chelsea's resident red flag Sam Prince.
After all the drama, Sam and Inga went on a break before Inga ended things for good when he came back and admitted he was now pals with Verity.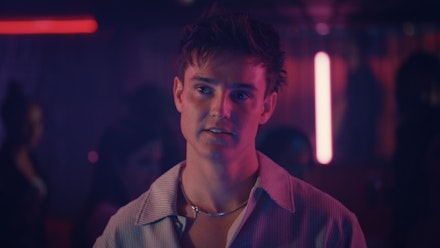 But in a teaser for a new episode, Sam is seen trying to get back with Inga despite his multiple flirtations with Verity, but she's having none of it.
Fans have been letting their feelings known on the situation all over social media, with many calling Sam 'savage' for his behaviour.
One tweeted, "He wanted inga to break up with him let's be honest. Man's a beg! #MadeInChelsea."
Another said, "I hate seeing great girls cry over complete dickwipes🙁He was WAY punching. You can and will do infinitely better x".
Despite this drama, as Inga remains relatively new to the show, you may still find yourself asking "Who is Inga Valentiner?" - Well look no further.
Who is Inga Valentiner?
Inga Valentiner is an artist based in London. She mainly works on canvas but has also designed artwork for surfboards and tattoos. You can follow her art instagram @i.valentiner.art.
Before moving back to the UK earlier this year, Inga lived in Bali for four years, where she met Julius and spent a romantic night on the beach with him.
She was introduced to the show having just returned from Bali as a friend of Tiffany's. Many fans have even compared her to another Chelsea legend - OG Louise Thompson.
How old is Inga Valentiner?
Inga Valentiner is 29 years old.
When did Inga Valentiner join Made in Chelsea?
Inga Valentiner made her first appearance in early 2021, joining the show in series 21.
Who has Inga Valentiner dated?
Inga Valentiner had history with Miles Nazaire and Julius Cowdrey before joining the show, meeting both whilst she was living in Bali. This made for an awkward encounter when Inga was introduced last series, as both Miles and Julius were single (and evidently ready to mingle based on their reactions when they saw her).
Inga met Julius first, on a beach in Bali where they shared a romantic evening and kiss. In the episode Inga described the night as being "very sweaty and very messy". Although their meeting sounds the more romantic of the two, it seems they had not seen each other since.
She later met Miles online, as they both followed each other. They were messaging before she returned to the UK and things soon turned flirty. Miles even messaged Inga the moment she left the airport. They later went on to spend a night together in the mansion in the Cotswolds.
Is Inga still with Sam Prince?
In 2022, Inga dated Sam Prince for six months (they even lived together) before ending things during the summer series. We're still yet to find out if they ever get back together. Inga unfollowed Sam on Instagram in March, though, so things don't look good.
Is Miles Nazaire still with Inga Valentiner?
Miles' and Inga's brief romance didn't pan out, with their relationship creating a bit of a rift between Miles and Julius. They decided it wasn't worth the trouble it would cause and the romance fizzled out as quickly as it started.
Does Inga Valentiner have Instagram?
Inga Valentiner does have Instagram. You can follow her @i.valentiner and follow her art Instagram @i.valentiner.art.
Does Inga Valentiner have Twitter?
Inga Valentiner does have Twitter. You can follow her @IngaValentiner, although she doesn't appear very active on Twitter with her last retweet being in 2017.