Since joining Made in Chelsea back in 2016, Emily Blackwell has been a staple of the show, bringing her fair share of drama.
The last two series of the hit show saw Emily navigate her break up with Harvey Armstrong after he admitted to kissing a girl on a night out and her 'will they, won't they' friendship with Miles Nazaire in Mallorca.
As we gear up to the new series (which will hopefully be on screens in the autumn), Emily has shared some huge news - she's got another boyfriend and he's SO HANDSOME.
Declaring that the pair were now Instagram official, Emily shared a collection of lovey dovey snaps of herself and her new man Jordan Alexander.
She simply captioned the post, "❤️‍🔥❤️‍🔥❤️‍🔥."
Emily was very quickly inundated with comments from her followers and co-stars, including Miles who wrote, "It's INSTA OFFICIAL!!!! 🔥🔥🔥🔥 love you both so much! ♥️".
Sophie Habboo said, "Wowie 🔥🔥🔥🔥 Insta official xoxox."
A fan added, "Hey good looking! And you Em x"
She even threw a little bit of shade at Harvey, as she shared a TikTok that was captioned, "When you find yourself in another relationship after promising yourself you'd be single for 2 years."
We're not sure when Jordan and Emily met, but we're hoping he makes an appearance on the new series because, swoooon.
Here's the need to know on Emily, who has had her fair share of drama and romance over the years...
Who is Emily Blackwell?
Emily is a model and the director of her own lingerie company, UYC London. She gained fame through her role in Made in Chelsea.
She grew up in Surrey and since joining the show she has become friends close with Jess Woodley, Tiffany Watson and Lottie Moss.
Outside of MIC she is also a YouTuber and Influencer.
Check out: Made in Chelsea's most dramatic splits 💔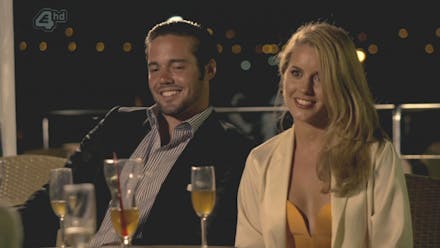 1 of 11
CREDIT: E4
Spencer Matthews and Caggie Dunlop
The OG tragic split, even featuring an IRL (well, scripted reality) leaving at the airport scene. Spencer and Caggie weren't officially a couple, with Spencer dating model Funda Önal, but the chemistry between them was undeniable and for a long time Spenny thought of her as the love of his life. Eventually, feeling played by Spencer stringing her along while refusing to dump Funda (we don't blame her, tbh) Caggie left to pursue a "music career" in New York, and Spencer, realising the error of his ways, rushed to catch her at the airport to win her back. He missed her. Talk about dramatic.
When did Emily Blackwell join Made in Chelsea?
Emily joined Made in Chelsea in 2016, during series 12 of the show.
How old is Emily Blackwell?
Emily is 26 years old. She was born on November 20, 1995.
Who is Emily Blackwell dating?
Emily is dating Jordan Alexander after splitting from her Made in Chelsea co-star Harvey Armstrong after almost two years together at the end of 2021.
The pair, who moved in together during lockdown, faced problems during the last series of the E4 show after Emily expressed that she wanted to settle down and someday have children, while Harvey was more interested in partying.
A source told MailOnline, "Emily and Harvey's relationship broke down at the end of last year.
"They had been experiencing problems for some time after realising they want different things and aren't on the same page for the future."
They added, "Emily was devastated by the way Harvey treated her during filming for the last series of Made In Chelsea – he acted disrespectfully, and she struggled to trust him after his behaviour changed.
"Their breakup is going to play out on the new series, which was difficult for them both to film."
Harvey was introduced to the show as an ex of Sophie 'Habbs' Habbo and dated Liv Bentley before dating Emily.
Who has Emily Blackwell dated?
Before her relationship with Harvey, Emily dated The Only Way is Essex's Tom Pearce, and was rumoured to have been dating Love Island's Chris Hughes back in 2018.
After his split from Love Island co-star Olivia Attwood, Chris was rumoured to be dating Emily after he posted an Instagram photo of him and four of the Made in Chelsea girls.
A source told New! magazine at the time, "The truth is Chris has been seeing Emily for a while and Olivia knows all about it."
AND THEN Emily very much confirmed the romance, saying, "Chris is an amazing guy. It's early days but yeah. We'll see. He's great guy, an amazing guy.
"Not a bad bone in his body. There's nothing not nice to say about Chris"
How is Emily Blackwell rich?
Emily is a model and business owner outside of the show. She is definitely not the richest cast member by a long way with her net worth and background largely unknown.
Is Emily Blackwell still friends with Jess Woodley?
It appears Emily and Jess Woodley are still friends - there hasn't been any big fallouts between the two (as far as we know).
Does Emily Blackwell have a YouTube channel?
Emily does have a YouTube channel. She uploads videos pretty regularly so subscribe if you fancy more MIC content outside of the show.
Does Emily Blackwell have Instagram?
She does. You can follow her @emily.blackwell_.