Maura Higgins has revealed she's finally ready to move on from Curtis Pritchard after being celibate since splitting from her Love Island boyfriend in March.
While it's thought Curtis has moved on with fellow dancer Amber Pierson, the Irish ring girl turned reality star admitted that her love life has been a bit dry during lockdown (join the club, hun).
But although she's been out of the dating game for a while, Maura's keen to find a new man and settle down after taking some time to focus on herself.
"For me lockdown definitely ruined everything but I don't think I would have jumped straight back into dating," she told The Sun.
"I am not the sort of person to jump into another relationship. I like to take time for myself after a break-up and that's definitely what I've done in this situation.
"You do have to love yourself before you can love anyone else. Having time for yourself is so important but I definitely feel ready to meet someone now."
CHECK OUT the definitive guide to which Love Island couples are still together (and which very much aren't)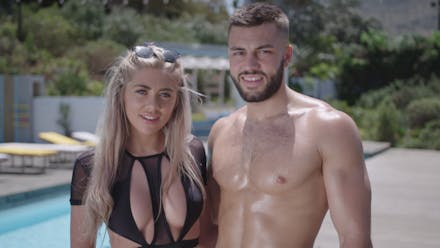 1 of 40
CREDIT: u00a9 ITV Pictures
Paige Turley and Finn Tapp: TOGETHER
They made their romance official within the Love Island villa, and 2020 winners Paige and Finn are still going strong back in the UK!
The 29-year-old has been forced to deny being romantically involved with both her Dancing On Ice partner Alexander Demetriou, who split from wife Carlotta Edwards after skating with Maura, and fellow Islander Chris Taylor since she split from Curtis.
She continued, "Every single man I am seen with people say I am dating but now I brush it under the rug.
"If I was dating someone I wouldn't be afraid to say it, I wouldn't date them in secret. I would be upfront and honest. I have no reason to keep any relationships a secret."
WATCH "When he puts it in the wrong hole!": Love Island's S4 & S5 naughty bombshell! 🔥
Look! More news!
Maura's love confession comes after Curtis was spotted locking lips with Amber Pierson, a dancer on his tour with brother AJ, who he denied cheating on Maura with during their relationship.
After pictures of the pair kissing in a park emerged, Maura cryptically hinted that all wasn't as it seems.
In the wake of the snaps, Maura took to Twitter to share a not-so cryptic message, which read, "The truth always comes out in the end."
She then posted on Instagram, "Always trust your first gut instincts. If you genuinely feel in your heart and soul that something is wrong, it usually is."
However, a source close to Curtis insisted there was "no overlap" between his relationships and accused Maura of a "smear campaign" against her ex.