After meeting on Love Island, contestants Faye Winter and Teddy Soares made a huge announcement about their two month whirlwind romance last week when they revealed they were moving into their first home together.
Having been closing in on the house of their dreams for months, Faye promised to take her followers on the journey as she revealed their moving in date on her Instagram Story, "The sixth of November… It's a very exciting day!"
"I can't wait. The countdown is on," she added.
The former lettings agent shared another update over the weekend when she uploaded a photo of her and Teddy sharing a glass of champagne in their new home. Alongside the snap, which was taken in their spacious hallway in front of a large staircase leading upstairs, Faye wrote, "HOME🏠 We are so lucky to be able to share this amazing journey together and with you all! We have lots of work to do and can't wait to show you everything along the way!
"We've spent the last few days enjoying this step in a bubble just us two but now we can't wait to show you everything! 🤍."
CHECK OUT Love Island's most controversial moments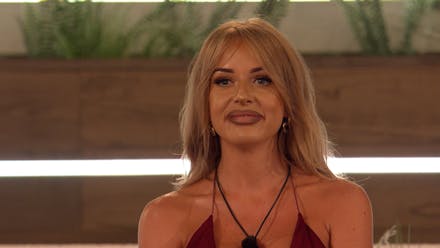 1 of 11
CREDIT: ITV
Faye Winter and Teddy Soares feud
Following the Mad Movies challenge that showed Teddy talking to Casa Amor bombshell Clarisse Juliette, Faye Winter was left furious. For the majority of the following episode, that was an hour-long, Faye was shouting at Teddy, Matthew MacNabb and even Dale Mehmet. As a result of the showdown, Ofcom received a record number of 24,763 complaints from viewers.
Look! More news!
Toby Aromolaran gets down on one knee for Chloe Burrows 'PROPOSAL' and OMG
Love Island's Tyler Cruickshank shows off post-villa transformation and HELLO 😍
Love Islanders to unexpectedly reunite - and it's going to be INTENSE
And in a YouTube video, Faye gave her subscribers another sneak peek inside the home she shares with Teddy as she opened up about the house hunting process.
After looking at four other houses, Faye and Teddy settled on this one and here's what it looks like inside...
Faye Winter and Teddy Soares' kitchen
The first room Faye unveiled was the stylish kitchen which features shiny black cupboards accented with silver hardware and plain white countertops, as well as a window that looks out in their huge garden (more on that later).
Faye Winter and Teddy Soares' living room
As Faye and Teddy have only just moved into their new home, the property isn't furnished as yet but a glimpse of the living room shows that there is plenty of space for them to add sofas, chairs, a TV and the usual cosy living room furniture. There's also a traditional log burner fireplace and some rather in your face curtains which we assume will end up in the bin when they redecorate.
Faye Winter and Teddy Soares' bedroom
Again, the bedroom is looking rather bare as Faye and Teddy haven't quite made themselves at home yet. Still, the bedroom is a pretty good size and has been decorated pretty neutrally which should allow them to dress it up however they like. The master bedroom also leads us into...
Faye Winter and Teddy Soares' bathroom
The en-suite bathroom in Faye and Teddy's master bedroom boasts both a bath AND a shower. It's decorated with brown marble tiles and has plenty of storage.
Faye Winter and Teddy Soares' garden
If there's one thing celebs love more than a crushed velvet sofa, it's a whopping great garden and that's exact what Faye and Teddy's new home boasts in the rear. They've plenty of colourful bushes too in case they're feeling green fingered.
Speaking about her new home, Faye said, "I am so happy that you guys get to see this. We have kept it a surprise and a secret long enough so I'm going to show you around.
"Know that we love it for all of its features and how quirky it is. We just adore it. Enjoy looking at our new home, guys."
WATCH Love Island's Priscilla Anyabu: "They're going to think I'm too dark - no one will pick me"
Nowadays things between Teddy and Faye are very different to their villa experience. While they were immediately drawn to one another on the show, it wasn't all smooth sailing for the pair whose relationship was tested to the limit.
In a famous heated row that sparked controversy, Faye was furious as she was shown a postcard of Teddy kissing fellow islander Clarisse Juliette in the villa... awkward.
We thought it was all over for the couple, until Teddy explained that he kissed Clarisse as part of an Island task and decided to stay loyal to Faye. It took a while for the pair to rekindle their romance and after making it the final, it seems that they've have learned from their experience on the show.
"We've got such a fine balance. Even the arguing, I think that's healthy in every relationship. It's just how you deal with it," Teddy told ITV.
Regardless of the ups and downs in their relationship so far, they're ready to take the next step.