Faye Winter has been dubbed 'gobby' and 'loud', whilst others have urged for her to be 'removed from the villa' for her outburst last Friday night; which saw her scream like a banshee at Dale Mehmet, Jake Cornish and, of course, on-off partner Teddy Soares.
She was angry after watching footage of Teddy outrageously flirt with Clarisse Juliette, which saw him confess that he was sexually attracted to her (flirting, right?), announce he was 'technically single' (ew) and that the Casa Amor situation was 'a problem'' (again, flirting, no?).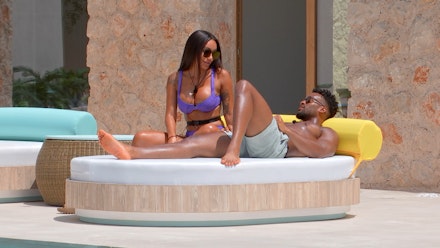 We all know he nipped that in the bud soon after and has since been devoted to the Lettings Agent, but the video out of context was difficult to watch. Especially if you are 1) insecure, 2) falling for someone hard and 3) had felt embarrassed that you had coupled up with someone else based solely on a postcard.
Faye overreacted. The scene was ugly to watch. I was genuinely terrified at one point. But who hasn't acted like a bit of a dick in the name of love? Especially after two glasses of wine.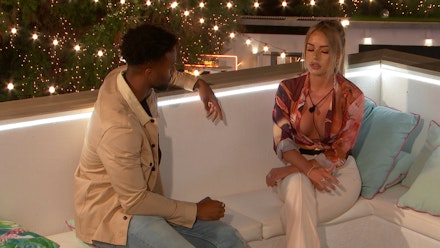 We need to remove the action from the person. Faye acted badly, but that doesn't make her a Bad Person. She was vocal, she was loud and she swore like a trooper because ultimately she felt betrayed. She wasn't malicious, calculating or nasty, she was very clearly aching for all the times she's been let down by previous relationships.
Would you want that time you were 'a bit of an idiot' on a Friday night to be the only thing people remembered about you? She is so much more than that.
Faye is the hilarious queen of one-liners, she's the ultimate girl pal and the way she kept her brown lipstick in check mid-argument was quite frankly iconic. She's been open and vulnerable about her conflicting feelings as she grows closer to someone on national TV.
You may believe Teddy would be better suited to someone else and that's your prerogative, but that doesn't mean we have to bash Faye in the process. If anything we should show our compassion for someone who is obviously hurting and hope they get the support and love they need.
After all, aren't we supposed to #BeKind?
Now! More news!
How Love Island's Faye Winter used sex toy to cure Botox fail 🍆
Love Island: Olivia Attwood responds to claims Faye Winter is 'trying to be her'
So, what brown lipstick does Faye Winter actually use?
Okay, so we currently don't have the exact lipstick and liner combo deats, but we definitely have a few strong possibilities for Faye's iconic lip look.
First up, is Doll Beauty. Faye was spotted holding the iconic Doll Beauty highlighter palette in an earlier episode and it's very possible she is a die-hard DB fan. We mean, if it's good enough for Khloe Kardashian...
The next obvious choice is Mac, especially for the dark lipstick and liner combo seen during Casa Amor. We reckon it's a toss-up between Whirl and Antique Velvet.