It's well established these days that Love Island – and now Winter Love Island – can provide a platform for celebrity offspring to break free from the overbearing shadows of their famous parents and become megastars in their own right.
Just look at Gemma Owen.
So is it any wonder we're now entertaining the idea that Kerry Katona's second eldest daughter, Lilly-Sue McFadden, will be appearing on the second series of Winter Love Island next month (after previously turning the series down)?
Fans (not just us, but mostly us) are already speculating about which hot singletons with notable mums and dads could be entering the villa next and Lilly-Sue is top of the list. The best part of this rumour is that Kerry herself is outrageously behind the move, telling her 19-year-old daughter to "Go and do f**king Love Island" to "make all the money you can".
If we've done our Love Island maths correctly, producers should be reaching the final stages of whittling down the next batch of Islanders to walk through those villa doors when the show returns on on 16 January 2023 (returning to its South African digs). Which is perfect for Lilly-Sue, as that gives her plenty of time to get panto season out of the way.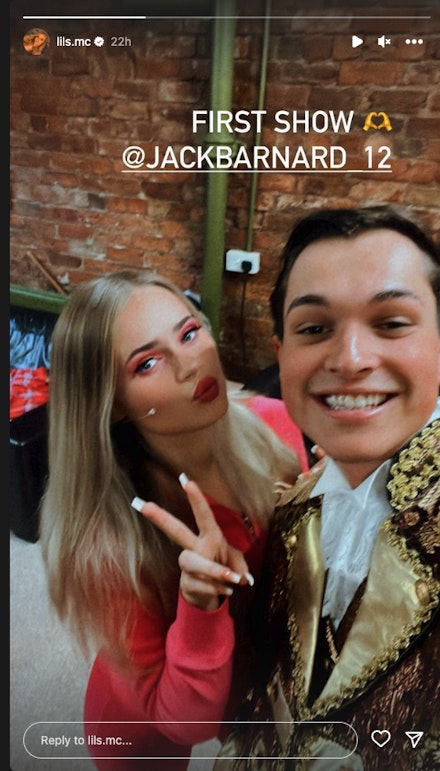 Swapping one staged fairy tale for another – we love to see it.
Lilly-Sue, who is an influencer and musical theatre actor is currently starring in Cinderella, this year's pantomime at The New Theatre Royal Lincoln alongside mum Kerry, Jake Quickenden and Iain Whaite. The actor recently shared a backstage snap with co-star Jack Barnard to celebrate their first ever show.
After some digging, we've learned that Kerry and Lilly-Sue's panto commitments end on 8 January 2023, giving the pair just over a week to get in full Love Island prep mode – Kim K and Kris style – early next year. In our minds, if Lilly joins the Winter Love Island cast, Kerry will TOTALLY be looking after her socials.
Last month, Kerry revealed that she's more than up for Lilly becoming an Islander.
Chatting exclusively to heat following the release of her new book Whole Again – Love, Life and Me: My Story, Kerry said, "Our Lilly gets asked twice a year [to do Love Island]. She keeps saying no and I'm like, 'Lilly, it's time you move out. Go and do f**king Love Island, make all the money you can and get your own b*****d apartment!'
"The reason I want Lilly to do it is because she's not like other girls. I know my 15 year old, our Heidi, struggles with her insecurities because of shows like Love Island and Instagram. You've all got to look a certain way. Our Lilly is such a tomboy. She's a scruffy b*****d, she doesn't give a sh*t.
"You know, she'll never shave her legs or armpits and I think that would pave the way for other teenage girls to feel normal, but she's having none of it. I'd drag her on the show if I could. Get on there and make a f**king difference and make some money and get out!"
Turning to her agent, Kerry continued, "We're working on her, aren't we, Molly? We're working on her.
"I think she would pave the way for a lot of kids that are insecure. I say to her, 'Think about our Heidi, think about what you could do'. These girls have all got fake lashes and Lilly gets all that done but she's such a bloke. She'll drink a pint and she's like, 'F**k that sh*t, I'm not shaving!'
"She'd go on there for love, but I just think she'd make a massive difference to girls. Love Island's an amazing show, it really is, but girls think they have to look a certain way and so do the lads. I think the lads expect the girls to look a certain way because of shows like that and because of social media. I'm a mother of four girls and a boy and it just worries me."
Kerry's book Whole Again: Love, Life and Me: My Story is out now via Mirror Publishing.
LISTEN to the latest episode of the heat 7 podcast
WATCH: 'You Never Admitted That!' Dami, Indiyah, Paige, Adam & Andrew Address Love Island Rumours