Love Island runners up Tasha Ghouri and Andrew LePage have revealed the, frankly, odd villa food rule they broke and we're here for it.
Speaking exclusively to heat, the loved-up pair spoke about how the sexes are separated for meal times to discourage chat about what's going on in the villa.
Do producers not want to show people chatting with their mouths full or something? Tbf, we're on board with that.
'At lunchtimes and dinnertimes the boys and girls aren't allowed to speak to each other," Andrew and his new teeth explained.
"But we always managed to sneak and find a way to talk to each other a bit."
"That's a rule we definitely broke," Tasha went on. "We were always being told off but you can't keep us apart."
Tasha and Andrew met up with heat as they're two of the good sport celebs taking part in heat's annual stars dress up end of year feature, out on Tuesday 13 December. Mark it in your diary. Do it NOW.
Andrew Le Page reveals major Tasha Ghouri moment that didn't air on TV
During a recent fan Q&A on his new YouTube channel, Andrew was asked, "Were there any scenes that weren't aired?", to which he responded by spilling some serious relationship tea.
He said, "So, I haven't watched Love Island back, and Tasha's not watched any of it back either, but she told me this scene wasn't aired. So, when she told me about her super power [Tasha's cochlear implant to help with her hearing loss], we were by the fire pit, just me and her, and she told me in more detail, and that was the moment. I genuinely felt like I fell in love with the girl.
"I just felt, this girl is incredible and such an inspiration. I'm just wowed by her and, just, yeah, that's the moment I fell for her. I just felt like, she's just incredible."
We're not crying, YOU'RE crying.
Andrew Le Page's adorable tattoo for Tasha Ghouri
Just in case you haven't already fallen head over heels for Andrew, he recently got a second tattoo to show his love for his Love Island gf (seriously, if you're not crying now, you will be in a sec). Posting a photo of the back of Andrew's upper arm, Tasha showed off Andrew's ink and explained the touching sentiment behind it.
"So Andrew came home and surprised me with his new tattoo, I actually can't even!!!!!!! How beautiful it's 'ily' in BSL with my cochlear implant wrapped around," she wrote on Twitter.
Lots of her fans couldn't help but comment with one person tweeting, "Y'all cute".
Someone else said, "Andrew is the best guy seriously... Tasha if you leave this guy, I'll find him and marry him".
A third added, "Oh my word!! This is so beautiful!! Genuinely so thoughtful".
Indiyah even wrote, "Oh wowwww".
After some fans were left confused with the language, Tasha clarified, "Also just to clarify * the ily is ASL [American Sign Language] but it is also used in BSL [British Sign Language] as it became more used - there is another way to sign ily in BSL which is what me and my dad did to each other when he came into the villa. But both can be used in BSL as I know both".
Remember when Andrew had to apologise to Tasha live on the Not My Bagg podcast?
It was only recently, during a podcast appearance, that Andrew was forced to apologise to Tasha when an awkward sex secret was exposed in a drinking game.
Andrew and Tasha were guests on the Not My Bagg podcast - hosted by Gogglebox brothers Joe and George Baggs - when the former real estate agent was asked to take sips from his drink "if he'd ever been tied down during sex".
The question caused the hosts to burst into laughter as Tasha asked, "Oooh... are you having to think about that?"
"No, I don't want to answer," Andrew admitted, before drinking some of his drink - indicating that he HAD been tied down in the bedroom. Saucy.
"It wasn't me, by the way. So... that will be a conversation for later," Tasha added, leading Andrew to wrap an arm around Tasha and say, "I'm sorry."
Awks...
Remember when Andrew and Tasha got matching fringes (we're still obsessed)?
As well as their matching tattoos, Andrew and Tasha now also have matching fringes and we're absolutely obsessed.
Yep, you read that right, Andrew and Tasha have cemented their love with VERY similar hairdos following Tasha's stunning fringe transformation. Name a cuter couple, we'll wait.
After becoming inseparable since leaving the villa (Tasha even moved Andrew into her East London apartment while they hunted for a little love nest together), former real estate agent Andrew unveiled a new look while packing up their belongings ahead of their big move and we couldn't help but notice it bears a striking resemblance to Tasha's recent style change.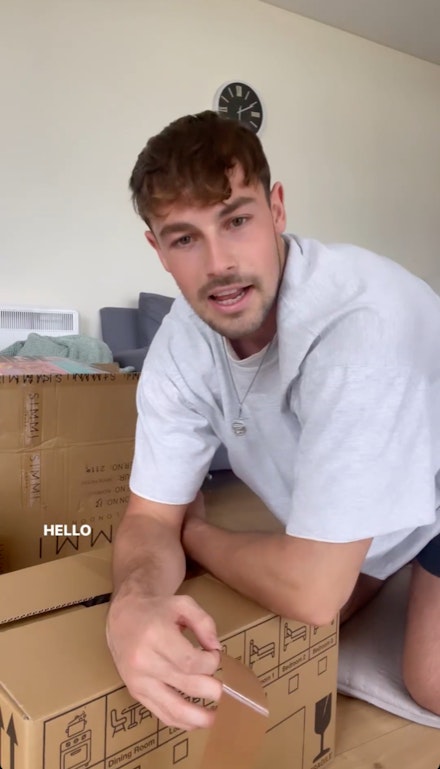 See what we mean? It reminds us of Tasha's choppy full fringe more than a little bit.
Tasha and Andrew's matching rose tattoos
In August, Tasha and Andrew debuted matching rose tattoos after a date in London. She shared photos on her Instagram story of her new addition on her neck and Andrew's on the side of his left hand.
Remember their final date in Love Island where they were surrounded by roses? We have a sneaky suspicion that the tattoo is something to do with that.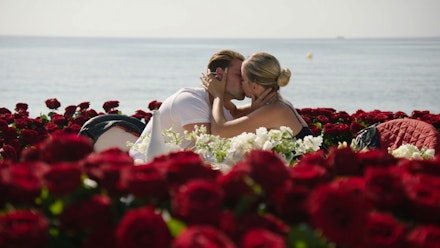 'I can actually see myself having kids with you one day'
Things are going so well for the loved-up pair that Tasha has even made a huge U-turn about having children, with her and Andrew planning both marriage and babies.
"At the start of the process, Tasha told me she didn't want kids. I said, 'That's cool, it's not a deal breaker for me,' and then five days before the baby challenge, she sat me down and said, 'I can actually see myself having kids with you one day'," Andrew told OK!
"I was very surprised as it was such a change, but I was obviously very happy. I couldn't stop smiling."
Revealing the reason behind her decision, Tasha added, "It just goes to show that if you meet the right person your opinion can change. Now I've met Andrew and I can see it happening. You know when you have a vision in your head of your life further down the line? I can see it sometimes. It has changed because of Andrew."
However, Andrew has admitted they still need to hash out the details as he'd like two children while Tasha is only keen to have one. But, at this rate, there will be little Le Page-Ghouri's running around in no time and we are obsessed with that double-barrelled name.
'Tasha's a good girl but you can tell that she's not into him'
It's fair to say that Andrew and Tasha have come a long way since their early days in the villa and changed a lot of opinions on their relationship. Even their fellow Islander Jay Youngerthought there was "absolutely" no way they would last on the outside world.
"Unfortunately for Andrew, because he's a really good boy, I think Tasha has a safe option with Andrew, so she alays knows Andrew is going to be there no matter what in that villa because honestly, he has genuine feelings for her," he told heat's Under The Duvet host Harriet Rose.
"Tasha's a good girl but you can tell that she's not into him. I feel like if I put a little bit more pressure on Tasha to get to know me a bit better and get to know her, that could have maybe ended the relationship. Equally with Charlie when he came in, if he pushed harder then that could have easily have gone the other way. I think on the outside, that will not last."
How quickly things can change, eh?
WATCH: 'You Never Admitted That!' Dami, Indiyah, Paige, Adam & Andrew Address Love Island Rumours